About Child's Hill Allotments
Map of Child's Hill Allotments. Click on map to enlarge.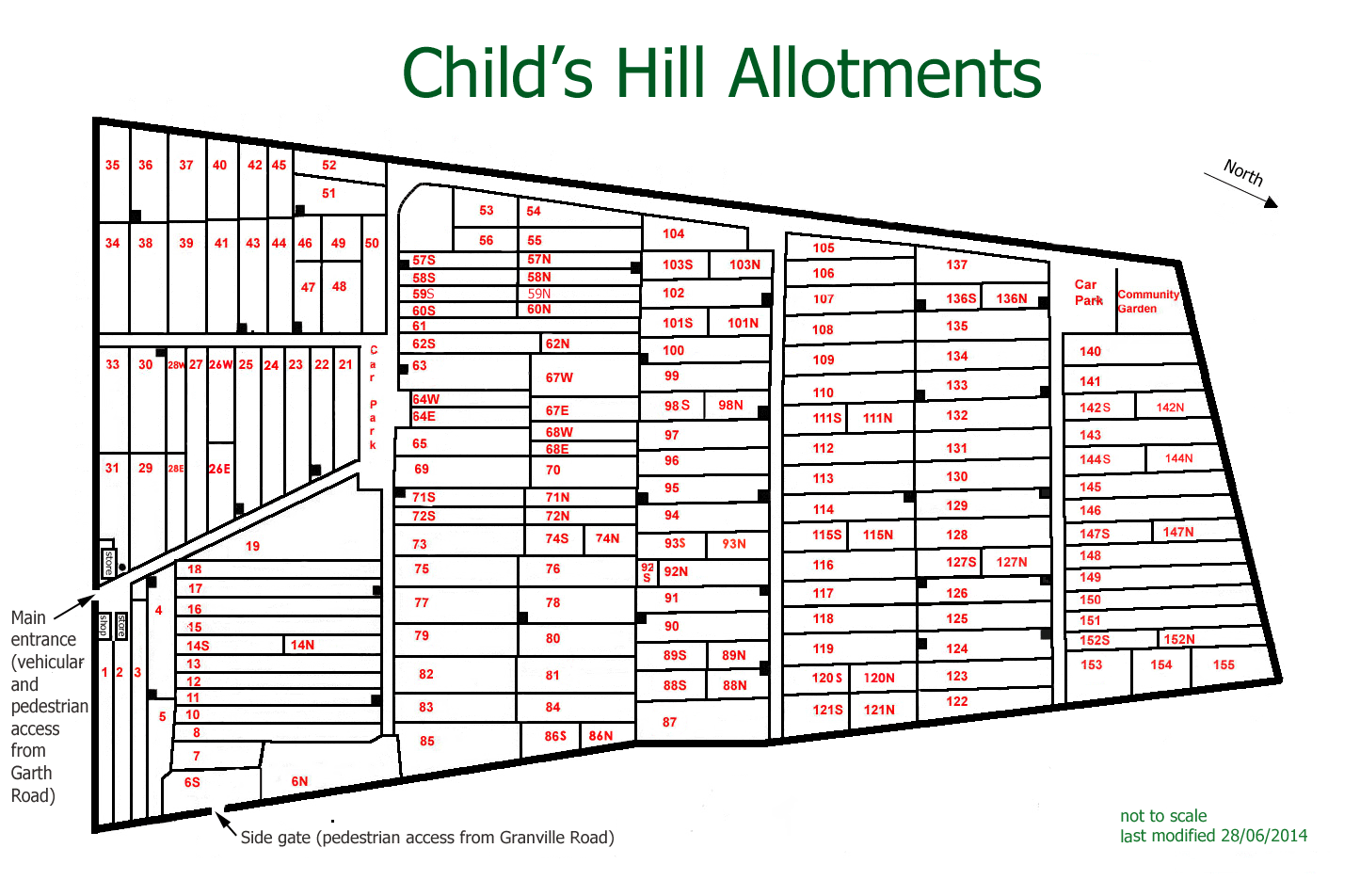 © Child's Hill Allotment Society 2014
Child's Hill Allotments occupy an area of about 10.2 acres in the south of the London Borough of Barnet. They are not far from the junction between Cricklewood Lane and the Hendon Way but, since they are surrounded by housing, they are secluded from the busy traffic.
There have been allotments at Child's Hill since 1890. The site was originally  somewhat larger than it is today but over the years land was taken for housing, in particular along the Hendon Way and for what are now Garth and Cloister Roads. Since 1925 the freehold of the allotment site has been owned by the Hendon Urban District Council and its successor, the London Borough of Barnet.
One of our tenants has written a history of the development of the allotments from 1890 to 1936 when they attained their present form.
The remaining 10.2 acres (4.13 hectares) is now a statutory allotment site. This means that, under the terms the Allotments Act 1925, it may not be used for any other purpose without the consent of the Secretary of State for Communities and Local Government. This would only be given if it could be clearly demonstrated that it was no longer required for allotment purposes, which in practice would mean that it was less than 75% cultivated and that there were no suitable alternative sites for the tenants to move to.
The  allotment site is divided into about 180 plots ranging in area from 4 to 15 poles; the number is approximate because from time to time new plots are created by splitting larger plots or by bringing formerly derelict land into cultivation. Most plots have an area of about 5 or 10 poles though there are some larger and some smaller.
For many years, the Child's Hill Allotment Society (CHAS), to which most plotholders belonged, was responsible for the letting of plots and the collection of rents, together with some minor maintenance work. The society was rewarded for this by being allowed to retain 25% of the rents received. The major maintenance work remained the responsibility of Barnet council.
In 2010, the council decided that it no longer wished to manage its allotment sites and offered allotment societies the possibility of leasing their sites from the council. In 2013 we entered into an agreement with the London Borough of Barnet to lease the site at a peppercorn (ie zero) rent for a term of 38 years, commencing April 1 2013. While Barnet retains the freehold, CHAS has complete responsibility for its management and maintenance.